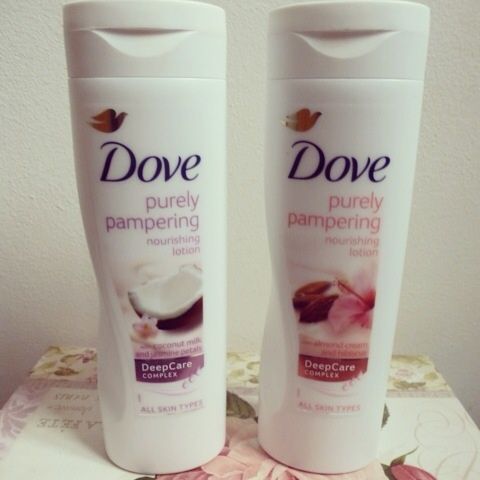 It is no secret that moisturising is something that I consider a chore, yet a necessity. Whilst it's something that I loathe doing, I'm always on the lookout for a product that makes the job a bit simpler - something that's going to sink in quickly, and keep me moisturised for longer.
The team over at Dove very kindly sent me two of their new Purely Pampering Moisturisers* that are designed to keep skin nourished with nutrients for 10 days.
My first point is that these smell heavenly. Whilst I don't have a particularly fussy nose, I do value a good smelling moisturiser, as I am after all, smothering every inch of my body with it. These, Almond Cream with Hibiscus and Coconut Milk with Jasmine Petals are both gorgeous, but not over powering smells.
I've only tried the Coconut Milk with Jasmine Petals moisturiser so far (for a sustained period) as it was my preferred smell, and I found it to be a light lotion that absorbed into the skin quickly (2-3 minutes). I wasn't left feeling greasy, or sticky and the subtle lingering of scent left on my skin felt completely luxurious.
This range promises to keep skin moisturised for 10 days (based on 2-3 times daily application) but that was never going to happen for me - I'm lucky if I moisturise once daily. I would say however, that even with my feeble moisturising regime, this did keep me feeling moisturised for 1-2 days after use, so signs are good.
My favourite, the Coconut Milk with Jasmine Petals is available exclusively in Superdrug for £3.99, whilst the Almond Cream with Hibiscus is available at all major retailers. For a bargain price I'd recommend trying them out as they smell beautiful.
What are your top moisturisers?