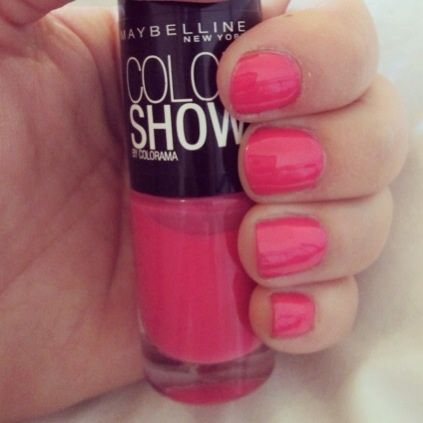 I've never tried any Maybelline nail varnishes before, so during my usual Superdrug browse, I thought I'd pick up some of their Color Show range to try. I decided to hit two completely different ends of the spectrum, going for Pink Bikini - a bright and vibrant hot pink, and Mauve Kiss - a creamy mid-nude.
Color Show is a transparent gel based formula which I found to be a little on the streaky side application wise (particularly Pink Bikini) - by no means a deal breaker, but when I'm comparing it to the likes of other similarly priced polishes (notably BarryM and Revlon) it's definitely not as good. Mauve Kiss was slightly better - and if you can handle application not being a complete dream these are both lovely colours. I applied two coats, with a top coat and found this lasted chip free for about 4 days, which for me is quite good.

I won't be flying out the door to buy more of these, but if a nice colour catches my eye then I'd probably buy another. Color Show are on the cheaper end of Maybelline's polishes (£3.99), so I'd be interested in comparing these to some of their more expensive ranges.
Do you rate Maybelline for nail varnishes?