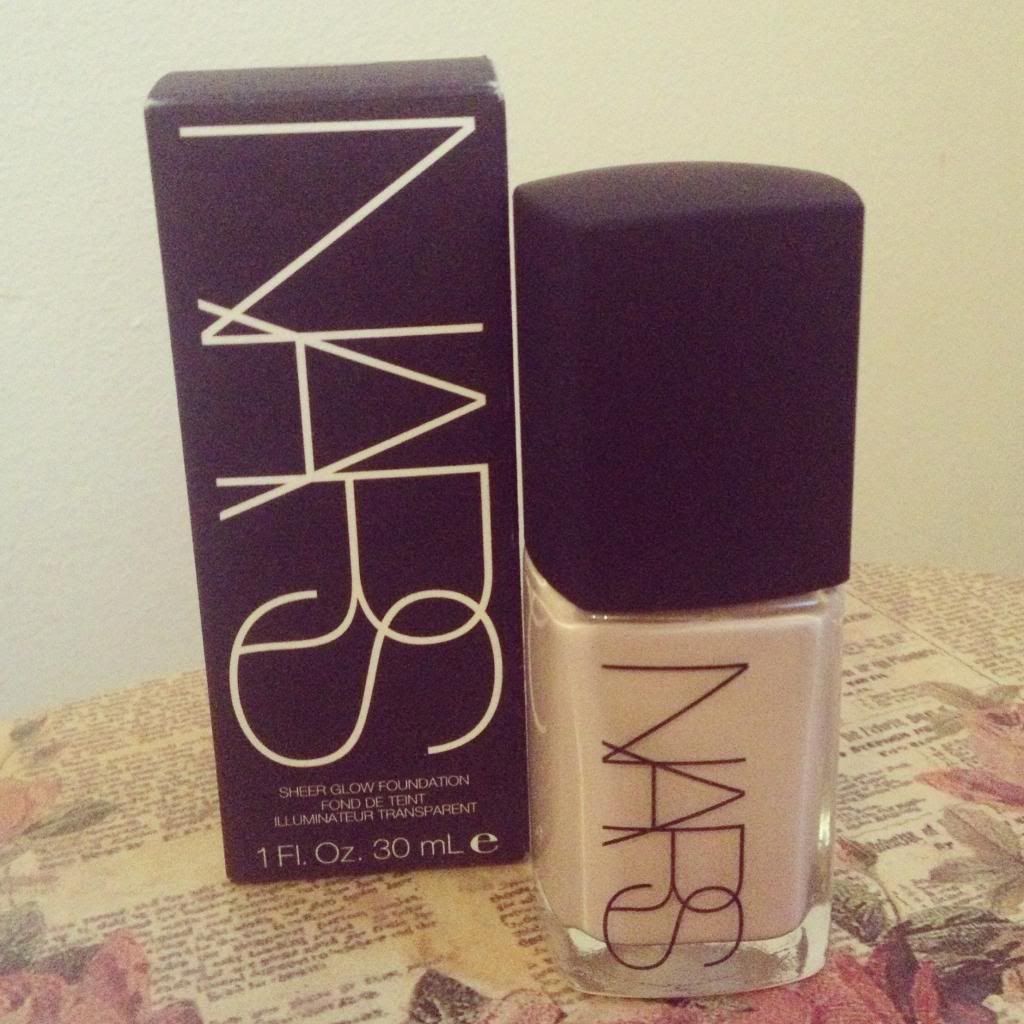 I have wanted to try NARS' Sheer Glow foundation for (I'd hazard a guess at) over a year. There was no real reason why, I think I just found that a variety of excuses surfaced over this time meaning I never did - it slipped my mind/was too expensive/I'd found a cheaper foundation I liked etc.
I eventually took the plunge when I was given some money by my boyfriend's lovely family for my birthday and I knew almost immediately - that this was one of the item's I wanted to treat myself too. BEST MOVE EVER.
First and most importantly, Sheer Glow is anything but the 'glowing finish' that Nars advertise - so if looking dewy is not your bag, then do not fear. Saying that, it's also not particularly matte either - it's best described as a satin-finish, and I find it very natural looking.
To apply, I dot this over my face and then blend out using my Real Techniques Expert Face brush which achieves a beautifully flawless finish. The foundation is light coverage but very buildable, and helps to even out my skin tone - it really is gorgeous to blend. I chose the colour Mont Blanc which is probably a little light for me but I was offered little help in the Space NK store (the less said on this the better) and had to go solo, but it's nothing a little bronzer won't sort.
According to NARS, Sheer Glow is replete with skincare benefits and the 'NARS Complexion Brightening Formula' which promises to leave skin hydrated, more luminous, softer and smoother. Apparently, using Sheer Glow daily can improve the skin's brightness and texture. I don't know how true this is - whilst my skin is feeling softer, smoother and more even-toned, I'd put that down to a new skin care regime, rather than my foundation which if anything, is probably causing the damage.
Longevity wise (very key) this lasts about 6-8 hours on the skin before needing a touch up which I think is pretty standard for foundations. I touch my face frequently at work (head in hands!) and there aren't many foundations that are going to withstand that.
My only criticism is the packaging. Whilst I love the look of the bottle, NARS insist on having no pump. This means product gets wasted if you're not savvy and your bottle can also end up looking pretty messy. NARS do sell pumps online for £3.00 (it's pump or lid though) however, I think when I spend £30.50 on a foundation, I'm entitled to a pump.
Overall, I adore this stuff - and unfortunately for my bank balance, it's here to stay.
Have you tried NARS Sheer Glow foundation?
Don't forget to enter my giveaway to win a MAC Blusher & Lipstick
here