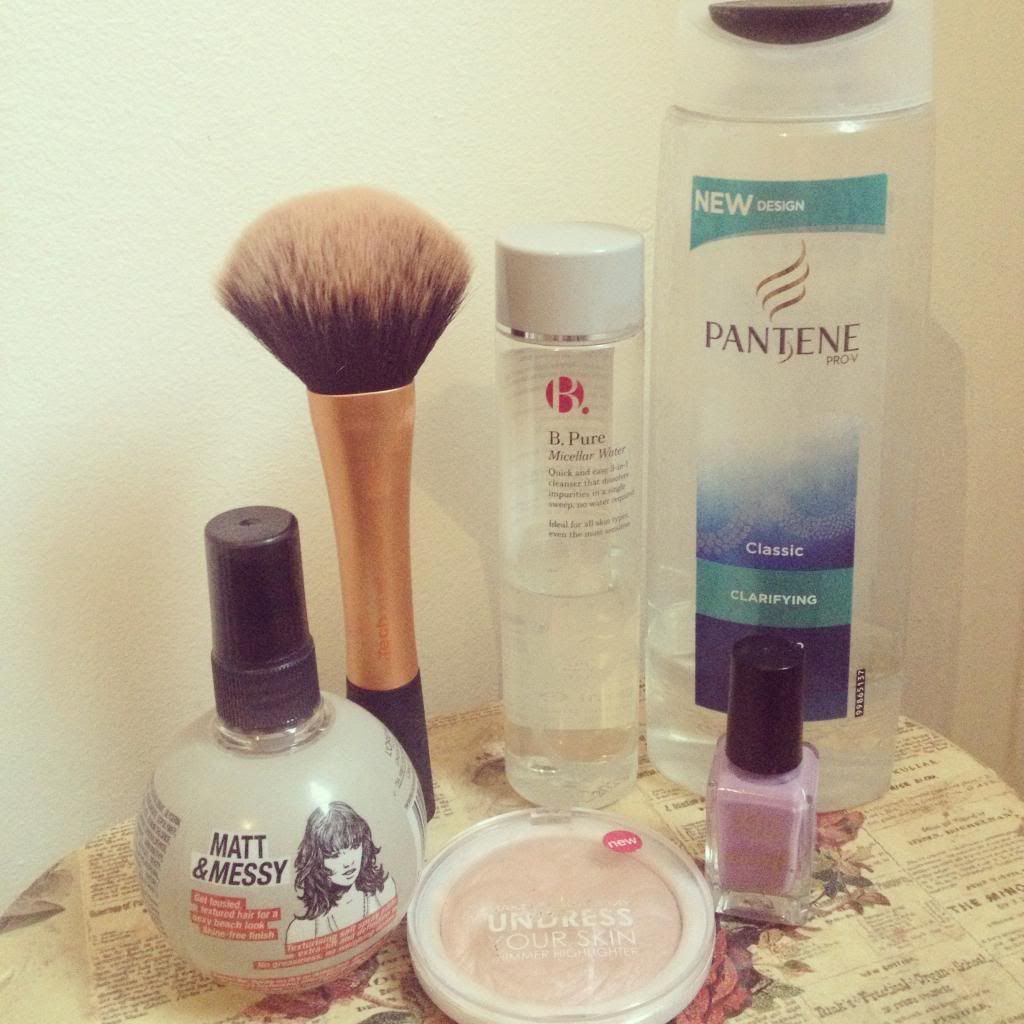 Now that we're into the full swing of April, the sun has been shining (bar this morning) and spring finally seems to be thinking about arriving, I thought it was about time I did my monthly favourites post.
1) Real Techniques Powder Brush
I've featured the Real Techniques brush range in previous monthly favourite posts, and the Powder brush is the most recent to my collection. I've been using the same haggard kabuki brush for as long as I can remember and I've always been hesitant that another large powder brush would do the same fool proof job. This however, applies my bronzer beautifully, it's larger than I thought it would be and applies both my cream and powder bronzers evenly. Bye bye kabuki...
I've already done an individual review on this, but I've continuously enjoyed introducing this micellar water into my daily skin care regime. It gets my makeup off incredibly easily and leaves my skin feeling fresh and clean. I will probably trial the Bioderma Micellar water before repurchasing this one - to see which I prefer.
3) Pantene Clarifying Shampoo
This is one almighty bottle of shampoo, it's huge. Whilst I don't use a lot of products in my hair (no volumising mousses etc) - I do use dry shampoo. I noticed a bit of product build up at the beginning of the month - my hair wasn't feeling as fresh as it should be after a hair wash - so I knew I needed to use a clarifying shampoo to help. This left my hair feeling squeaky clean, fresh and light and I've used it about once a week since and it's lasted me AGES. Love this.
4) L'oreal Studio Matt & Messy Salt Spray
I already use Toni & Guy's Sea Salt Spray but was recommended this product by a friend and have been using it on dry, previously curled hair in order to give it a bit more oomph. It's ideal to use to give your hair a little more texture between work and drinks.
5) Barry M - Berry IceCream Nail Varnish
This is my favourite polish of the moment as it's such a perfect spring shade and looks so pretty on my nails. It takes 2-3 coats to look it's best and it dries quickly (though I always have my trusty OPI RapiDry side kick ready to speed up the process). I know I'll be wearing this all through Spring and Summer.
6) MUA Undress Your Skin Highlighter
Again, I've already done a review on this highlighter that you can read here but this is a pretty, well pigmented highlighter that looks lovely on the cheeks and I've really enjoyed wearing it this month.
What have been your March favourites?
Don't forget to enter my giveaway to win a Mac Lipstick & Blusher here