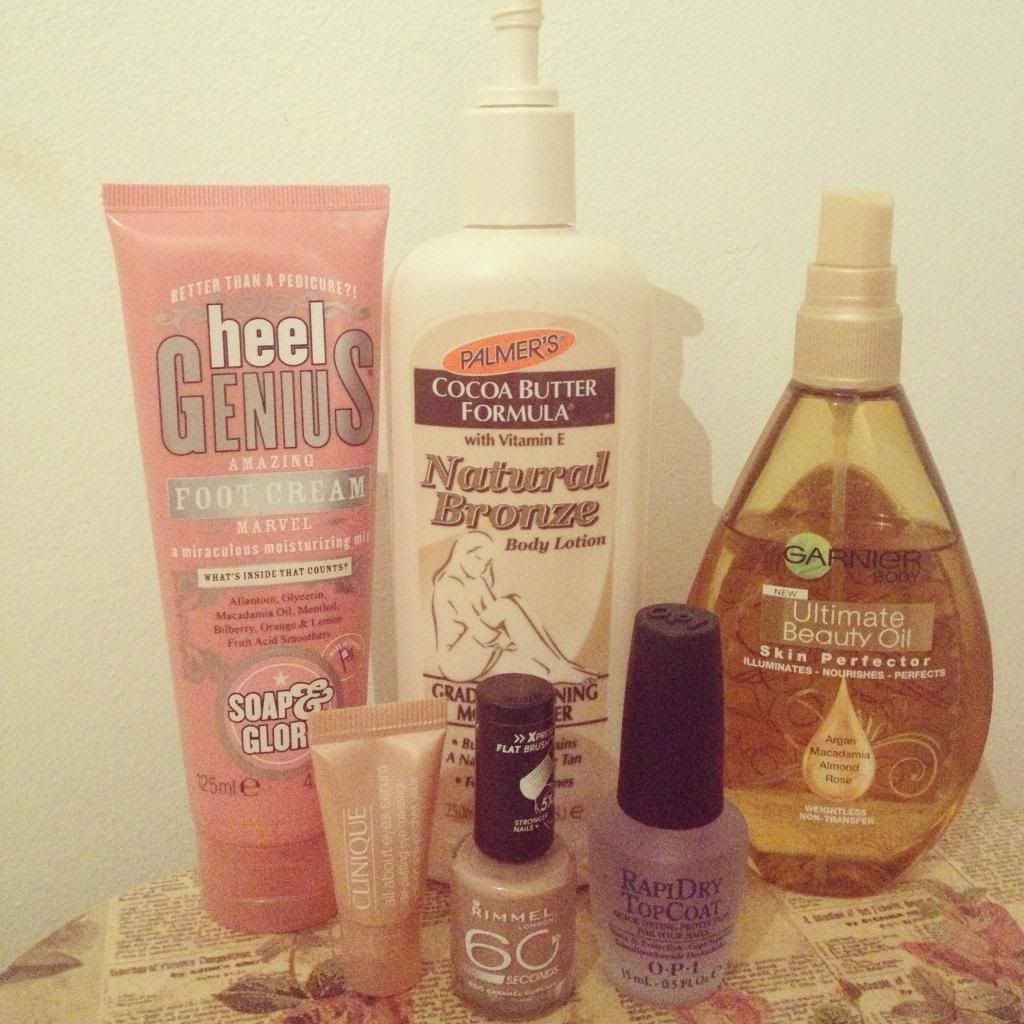 Another month, another batch of beauty favourites. Nothing particularly revolutionary for the month of February, but still enjoyed using these products all the same
.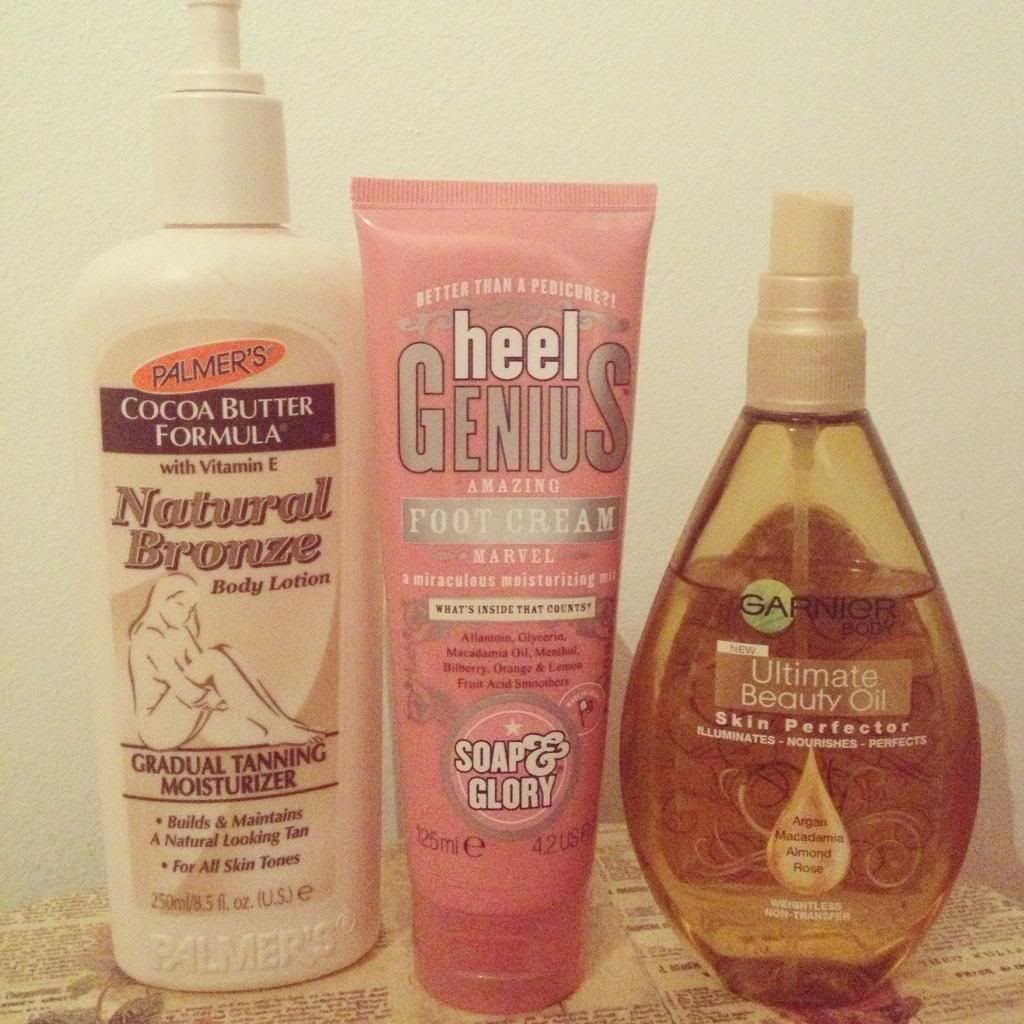 1) Palmers Cocoa Butter Natural Bronze Body Lotion

I've raved about this product in an entire post, which you can read here, so I won't go into masses of detail again, but to summarise - this is the bomb. Beware though, this is marketed as a gradual tanner, but comes out as a decent colour on the first application so no need to go crazy.
2) Soap & Glory Heel Genius Foot Cream

I'm lucky enough to have a boyfriend who will give me foot massages (and not only that, he forced me to have my first ever one to show me how good they are - what a dream). We used this cream a few times as I had it in my supply but hadn't really used it that much before. I do typically neglect my feet until summer when I then recoil in horror at the state of them so I'm trying to take better care of them ahead of my holidays. Since I started running and playing netball, they've been a bit knackered so I like to pop some of this on at night to help moisturise them and work away any hard skin. I've seen an improvement, so this makes my favourites this month as a result.
3) Garnier Ultimate Beauty Oil
As I've mentioned time and time again, I'm awful at moisturising my body regularly. I've been loving this because it's a spray, which means I can quickly spray it all over myself after a shower without having to spend an age rubbing it in. I tend to use this in the evening before I go to bed so that the oil can sink into my skin come morning, and the smell is incredible. Smells and feels like a luxury product.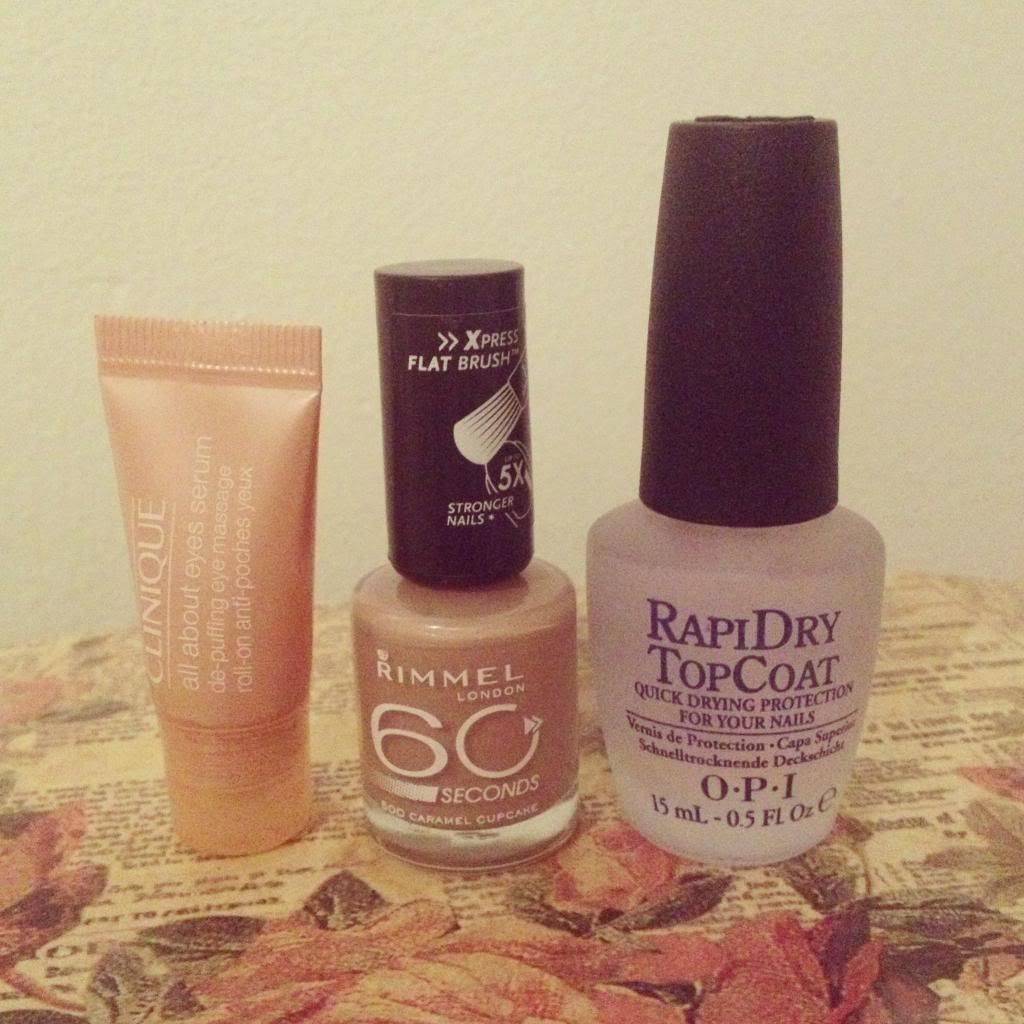 4) Clinique All About Eyes Serum (Mini)

I can't for the life of me remember where I got this from, whether it was a sample in a beauty box, or perhaps came with another Clinique purchase, but it's sat dormant in my makeup storage for a while. Whilst sifting through, I found it and decided I'd give it a trial. I never used to suffer with puffy, or under eye bags but more recently I seem to be suffering if I don't have my 7-8 hours beauty sleep. This has a refreshing, cooling sensation when you apply it to your skin with the rollerball so it feels incredibly satisfying (I'd use it for that alone) but I have noticed that my under eye bags are reduced. This is because it lists caffeine as one of it's ingredients. Caffeine is an anti-inflammatory ingredient that reduces swelling. I'm not sure whether I'd buy the full size when this runs out, but I've certainly enjoyed using it this month.
5) RapiDry Top Coat

Another product that has had it's only specialist post (found here). Brilliant top coat, provides great shine and dries in minutes which has honestly changed my life (in a shallow, nail painting kind of way). Anti-chipping seems good too, I've lasted about 3-4 days so far.
6) Rimmel London 60 Seconds Polish - Caramel Cupcake

Thanks to RapiDry top coat, I can now really enjoy painting my nails, and this has been my favourite polish this month. It's a creamy nude with a slight pink sheen and I just think its lovely. I've not worn nudes much before and I've really enjoyed doing so. I can't really fault Rimmel polishes.
What have been your February favourites?