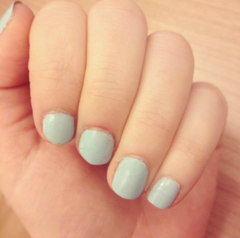 I'd say that in the last year my nail polish collection has tripled. Having worn acrylics for years, coupled with a distinct lack of ability in nail painting, purchasing nail varnishes has just been bottom of my list. With the discovery of OPI RapiDry (review here), nail painting has since become an enjoyment, and I actively look out for, and am willing to spend money on, different brands and shades.
Mint Candy Apple is my first Essie polish, and quite the triumph. It's a pastel mint blue-green colour which looks feminine and eye-catching. It's a great formula, and the above shot took 2 coats to reach opacity. It could probably have done with a third if you're looking for perfection, but I'd rather given up by then. The brush is a little too thin for my liking, but all in all, it's a stunning shade and I look forward to seeing what other Essie shades I can discover.
What Essie shades are your favourites?